I was eating my second breakfast (bread, Kaya jam, strawberry jam, peanut butter, sausage, egg, and coffee) and writing on Mountain Torq's Guestbook when Nani arrived.
After the meal, I went to my room and prepared for the descent. I thanked Mountain Torq personnel, especially William, for the warm welcome and friendliness they have given me on my stay in Pendant Hut. They were inviting me again to visit Mount Kinabalu again and to try the multi-pitch rock climb on the Sayat-Sayat Slab (that's because I was telling them that I do rock climbing in the Philippines). I told them I will be back if my best climbing partner/best friend/belay-bunny would invite me.
We started our descent by 1042hrs, but now the pace was faster. Nani asked me to remember her tip on climbing Mount Kinabalu: "Walk slowly, don't stop, and enjoy the climb." And added another one: "Stay happy." But I teased her that we didn't really 'walk slowly.'
Nani then introduced me to a veteran guide (Anthony) that guides climbers to the Eastern Plateau. He gave me his number and pointers on how to request for a permit to climb the Bowen's Route. He was depressed for his clients didn't (attempted to) climb to Low's Peak that day.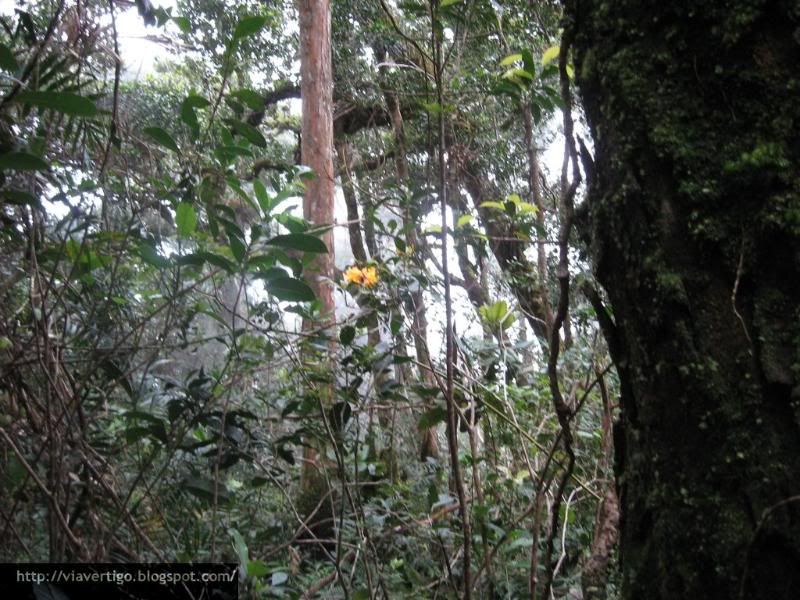 The descent was the same as the ascent. We overtook everyone that was climbing down. Nani even has in one hand a bagful of garbage from Pundok Paka. We reached Timpohon Gate by 1212hrs. We descended the mountain in 2-hours 10-minutes.
I met three Aussie women on the bus ride from Timpohon Gate towards the Park HQ. I recognize them as the three ladies sitting beside me on Low's Peak that morning.
Upon reaching the Park HQ, I readily inquired for the climb towards the Eastern Plateau, but the Park Administrator was out for lunch. I would email or call his office (when the time comes) when I'm ready to take-on the Bowen's Route.
I went to the souvenir shop while I was waiting for Jewel Ju to arrive and bought some memento of my climb. After Jewel obtained my certificate from the Park HQ, I then bade goodbye to Nani and told her that if ever I will climb Mount Kinabalu via the Bowen's Route, I would request for her to accompany me.
After departing the Park HQ, Jewel Ju treated me for lunch. We ate at a restaurant a few meters away from the Park gate. I ordered Tom Yum Soup. I was not even similar to the Tom Yum soup served in the Philippines! It was really spicy hot! Jewel Ju even told me that a variation of it is even hotter in another Malaysian state.
Just as I seated myself on the KCTT van, I went Zzzzzzzzzz…