I woke-up 0230hrs.

Suited-up, grabbed my pack, and went to take my breakfast (bread, butter, peanut butter, Kaya jam, strawberry jam, and coffee).

Before 0300hrs, Nani arrived.

We headed back to Laban Rata and went right towards the Summit Trail.

We went first inside Gunting Lagadan Hut for Nani to refill her water bottle with warm water.

After a few minutes we were back on the trail.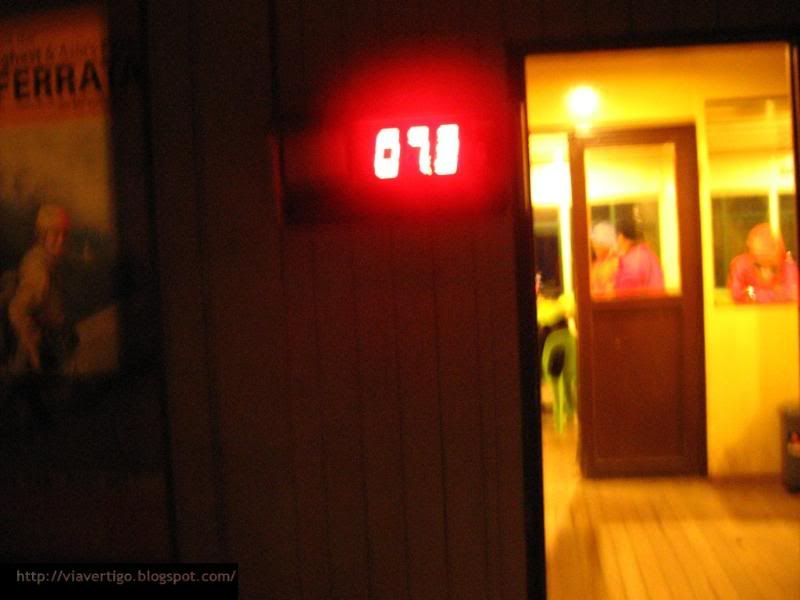 The trail is now jam-packed with climbers towards the summit. Nani and I overtook climbers resting on the trail. That was our movement all the way to the summit. We were not really in hurry but many climbers were just sitting or not moving at all, causing the long trail-traffic. I asked Nani if we can see the Bowen's Wall even if it's still dark; she said no. We arrived shortly at the Sayat-Sayat Hut. The park staff registered my ID/Permit and wished me luck on the summit climb. I think we overtaken 50+ climbers or so in the process.
By 0500hrs, I reached Low's Peak; the highest point of Malaysia and once the highest point of Southeast Asia. Nani again asked me of our walking time. I told her that it just took us 2-hours to reach the peak. She then congratulated me for climbing Mount Kinabalu/Low's Peak ad the fast climbing time. I took photos and reached for my cellular telephone to send SMS to my family and some friends. After some minutes, the summit area was getting crowded with climbers. I told Nani that we can descend already and I was not really keen on waiting for the full vista of the sunrise.
While we still have enough time to meet William at the Sayat-Sayat Slab, we toured around the lip of the Low's Gully and the foot of both St. John's Peak and Kinabalu South Peak. Arriving at the top-edge of the Sayat-Sayat Slab headwall, we saw William heading our way.